The California Energy Commission organized the WESTCARB partnership in 2003 in support of a U.S. Department of Energy (DOE) initiative to develop regionally specific information on CO2 storage resources and to address associated applied reserch needs. The Energy Commission leads the partnership and, along with DOE, is a principal funder of its work.
The partnership comprises more than 90 organizations from state and provincial resource management and environmental protection agencies; national laboratories and research institutions; colleges and universities; conservation non-profits; oil and gas companies; power companies; pipeline companies; trade associations; vendors and service firms; and consultants.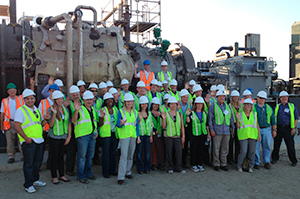 Participants at WESTCARB's 2012 Annual Meeting gather in front of the new intermediate pressure oxy-fired turbine at Clean Energy Systems' Kimberlina Power Plant.
Advanced Resources International
Aera Energy
Air Liquide
Alaska Department of Natural Resources
Alston & Bird LLP
American Petroleum Institute
American Water Works Association
Argonne National Laboratory
Arizona Electric Power Cooperative
Arizona Geological Survey
Arizona Public Service Company
Aspen Environmental Group
Bascom Pacific, LLC
Bevilacqua-Knight, Inc.
Blue Source
BP (British Petroleum)–America
British Columbia Ministry of Energy, Mines, and Petroleum Resources
Calera Corporation
California Air Resources Board
California Department of Forestry and Fire Protection–Red Bluff, CA
California Department of Forestry and Fire Protection–Sacramento, CA
California Department of Water Resources
California Division of Oil, Gas and Geothermal Resources
California Energy Commission
California Environmental Protection Agency
California Forest Products Commission
California Geological Survey
California Institute for Energy and the Environment
California Polytechnic State University–San Luis Obispo
California State University–Bakersfield
Cement Industry Environmental Consortium
Chevron
Clean Energy Systems
Climate Action Reserve
Climate Trust
Collins Companies
ConocoPhillips
Desert Research Institute
DNV Research-Det Norske Veritas
Electric Power Research Institute
Errol L. Montgomery & Associates
GeoMechanics Technologies
Golder Associates
GreenFire Energy
Greenwood Resources
HTC Purenergy
ION Geophysical
Jeld-Wen Timber and Ranch
Kinder Morgan
Lake County Resources Initiative
Lawrence Berkeley National Laboratory
Lawrence Livermore National Laboratory
Linde Group
Massachusetts Institute of Technology
National Council for Air and Stream Improvement
Nevada Bureau of Mines and Geology
Nexant
Occidental Petroleum
Oregon Department of Forestry
Oregon Forest Resources Institute
Oregon State University
Pacific Forest Trust
Pacific Gas and Electric Company
PacifiCorp
Peabody Energy
Portland General Electric
Portland State University
Princeton Natural Gas, LLC

Ramgen Power Systems

Renewable Fuel Technologies, LLC

Rooney Engineering, Inc.

Salt River Project

San Francisco Department of the Environment
Sandia Technologies

Schlumberger

SFA Pacific

Shell International

Sierra Pacific Resources

Southern California Edison

Stanford University–Global Climate Energy Project

StoneAxe Energy

Taisei Corporation
TransAlta Centralia Generation

Tucson Electric Power

University of Alaska–Fairbanks

University of California–Berkeley

University of California–Davis

University of Hawaii–Hawaii Natural Energy Institute

U.S.D.A. Forest Service (Pac. Wildland)–Vallejo, CA

U.S.D.A. Forest Service (Shasta)–Redding, CA

U.S. Environmental Protection Agency, Region 9
U.S. Environmental Protection Agency, Region 10

U.S. National Park Service

Utah Automated Geographic Reference Center

Washington State Department of Natural Resources

Western Governors' Association/Western Interstate Energy Board

Western Shasta Resource Conservation District

Western States Petroleum Association

Wheelabrator Shasta Energy Company
William J. Clinton Foundation

Winrock International

W.M. Beaty and Associates